Certified Surgical Tech at Pine Creek Medical Center
Video Clip: The OR Department at PCMC | Twyla Jackson, RN, BSN, CNOR
About the Position
Pine Creek Medical Center's Surgical Tech will assists physicians and nurses in various medical and technical procedures. These functions must be in compliance with the philosophy of PCMC, standards of practice and regulations of governing agencies.
The Surgical Unit
Pine Creek Medical Center offers a fully integrated operating room system, engineered to meet the needs of your surgical team. Our Digital Smart OR is a state-of-the-art and easy-to-use OR system that enables nurses in the operating room to monitor and control various devices and imaging technologies from a single point at the nurse's station.
With Digital Smart OR, there is a seamless integration of surgical devices such as:
surgical lights

flat screen monitors

imaging technology

hospital information systems
With control of all these devices, our surgical team can easily view critical patient data, such as PACS or MRI images on side-by-side flat screen monitors.
In addition, our system enables nurses and physicians in the OR to have on-site and off-site conferencing capabilities. Using state-of-the-art digital audio and video processing, real-time communication is within reach. Our system can control requests for conferencing, and a privacy feature assures patient privacy.
Uniqueness of our opportunity
Pine Creek Medical Center strives to be a leader in delivering the highest quality healthcare through exemplary services to the exclusive benefit of our patients, their families and the communities that we serve.
We pride ourselves on incorporating our values into everything that we do. Every doctor, nurse, and staff member strives to work with dignity, compassion, excellence, and integrity.
Benefits
Immediate eligibility

for

Medical/Dental/Vision benefits

401k Retirement Plan with immediate vesting of matching contributions

3 weeks Paid Time Off (increased after 1 year)

Up to 10 free telephonic medical consultations with a physician

Employee Assistance Program, including free counseling sessions

Voluntary Benefits
Shift
Monday to Friday: 11:00 AM to 7:30 PM
Minimum Qualifications
Must have strong experience in both spine and ortho

Certificates and Licenses

Current BLS training (at

date

of hire)

Surgical Technologist certifications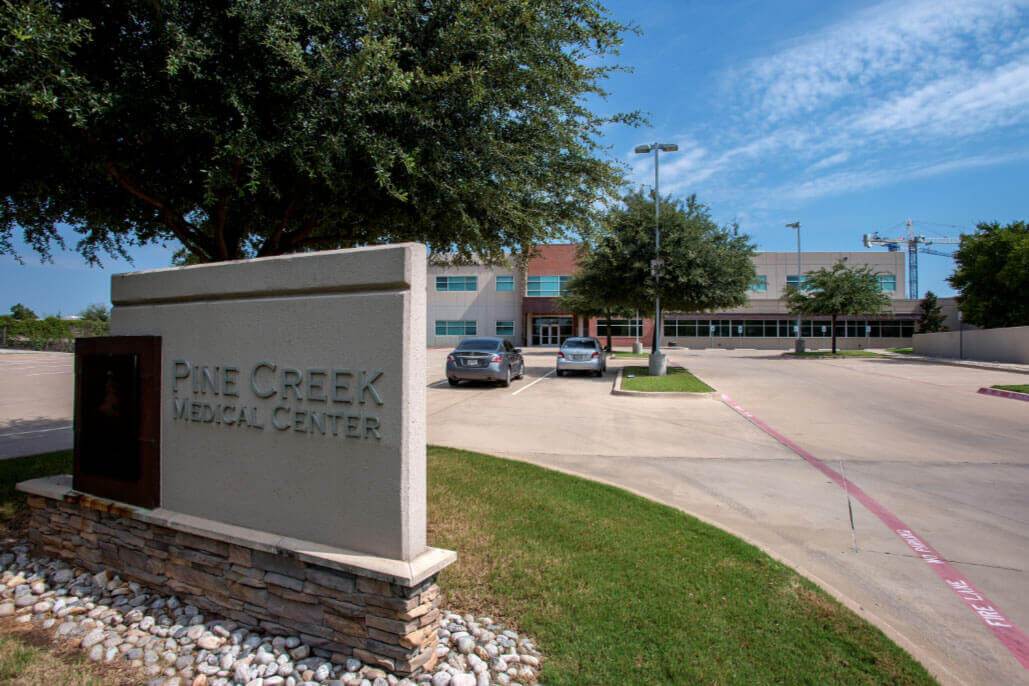 About Pine Creek Medical Center
Dignity | Compassion | Excellence | Integrity
Pine Creek Medical Center is a private, physician-owned and operated hospital serving more than 3 million people in the Dallas-Fort Worth Metroplex and surrounding counties. Pine Creek was conceived in 2003 by many physicians seeking to improve health care in the area and built in 2005, as a short-stay hospital that is thoroughly state-of-the-art. With a sophisticated environment, highly trained staff and advanced technology doctors are able to make each patient the top priority of the day.
As a "Center of Medical Excellence," Pine Creek Medical Center has incorporated advanced operating room technology into the new hospital in a relaxing spa-like environment. Pine Creek Medical Center is equipped with the latest in state-of-the-art surgical imaging, surgical environment control, and communications technology.
Pine Creek Medical Center is accredited with the Joint Commission on Accreditation of Healthcare Organizations, is Medicare certified, and is accredited by the International Medical Tourism Board.
Pine Creek Medical Center is an Equal Opportunity Employer.
Apply today.
Our short application process takes less than 5 minutes on your phone, tablet or computer.